New Boeing plane arrives in Portland. The road ahead.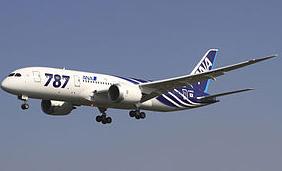 By Oregon Small Business Association
The 787 Dreamliner, an all-new airplane design with advanced features increasing efficiency and improving air travel experience, stopped in Portland for two days at Boeing's Paint Hangar at Portland International Airport. The Dreamliner is uses 20% less fuel than previous models and with already over 800 orders represents a giant opportunity for the NW airline manufacturer.
However, three problems loom on the horizon for Boeing to overcome in order to achieve another historic success.
1. Boeing still outpaced on fuel efficiency
When comparing Boeing's 777 widebody with their chief rival Airbus' 380, the 777 uses +16% more fuel for every passenger and retains less seats. Since fuel accounts for a third of airlines' costs, the Airbus jumbo's edge in per-passenger efficiency is a big selling point. Boeing's prized plane over the last decade has been the 747-400 widebody. Recdently, their worth has been rated at a record-low $36 million, 10 percent less than similarly aged planes last year. It has been shunned in favor of Boeing's smaller 777 widebody (which has two fewer engines sucking fuel) or Airbus's mammoth A380 double-decker.
2. Airbus opens first U.S. plant in Alabama
The European plane manufacturer and rival to America's Boeing will spend several hundred million dollars on the plant, which could eventually assemble Airbus' popular A320 jets, the New York Times reported, quoting people with knowledge of the plan who spoke on the condition of anonymity. The New York Times reported: "Airbus is betting that American airlines, many of which have large fleets of aging jets, will consider an A320 that was "made in America" over Boeing's competing 737. By assembling the planes with nonunion American workers, and in using dollars, Airbus also stands to reduce production costs."
Boeing is ramping up production of its 737, which competes directly with the A320. Both companies are installing new, more fuel-efficient engines on the planes. Airbus made its new-engine decision earlier than Boeing and got a big jump on orders.
The U.S. is a growing market for Airbus. American Airlines ordered 260 A320s last year, and US Airways is buying them as well. However, Delta Air Lines went with Boeing 737s in a 100-jet order in August.
3. Boeing recent manufacturing problem
Boeing has discovered a manufacturing error causing delamination in the plastic-composite aft fuselage section of some 787 Dreamliners, according to a person with knowledge of the problem.
Flightglobal, the website for Flight International magazine, reported that structural stiffening rods, hardened together with the fuselage skin in massive ovens, had partially separated from the skins.
Seattle Times aerospace reporter, Dominic Gates reported that according to a person with knowledge of the issue, any plane in which this fault has been discovered is not allowed to operate beyond "limit load," the term for the maximum load projected in normal service.
However, the planes must be certified to sustain 1.5 times that load, a standard called "ultimate load," for certification and delivery.
It was left unclear whether the delamination has been found on any of the five Dreamliners already delivered and in passenger service for All Nippon Airways.
IF Boeing can over-come some of these challenges, then the Dreamliner may be their biggest success yet.
Posted: July 11th, 2012 under Uncategorized.