NW port slowdown causing economic damage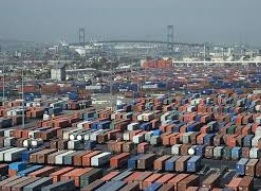 Delays at West Coast ports, including Northwest ports, have reached a critical point and threaten regional economies, according to recent news reports. The Pacific Maritime Association (PMA), which represents 29 West Coast port employers, has been locked in contract negotiations with the International Longshore & Warehouse Union (ILWU) since July of last year. That's when the six-year contract between PMA and ILWU expired.
Since then, both sides have blamed the other for major port delays that have left ships stalled at docks in Los Angeles, San Francisco, Portland and Seattle, among others. The ILWU says port operators aren't providing sufficient resources or that their equipment isn't safe, which is causing delays. Port operators counter, and recent judicial rulings seem to affirm, that the ILWU is engaging in deliberate delay tactics to gain leverage during ongoing contract negotiations.
Regardless of who's to blame, delays at West Coast ports are beginning to have an economic impact. In early January, Weyerhauser announced it will lay off workers at one of its Longview, Wash., facilities as a direct result of longshore union slowdowns at ports in Tacoma and Seattle. The Journal of Commerce recently highlighted a Federal Reserve national economic report indicating significant economic impact caused by disruption at West Coast ports.
Nearly two-hundred companies and associations dependent on West Coast ports signed a letter to President Obama in late December requesting the White House assign a third-party, federal mediator to guide contract talks toward resolution. According the letter, "Importers, exporters and others are feeling the impact from the congestion and slowdowns at the ports…Retailers have had delays in getting holiday goods to store shelves. Manufactures have had to slow and even stop production lines due to unavailable components delayed at the ports, creating high levels of uncertainty for workers and employers who are aiming to deliver products to domestic and global markets."
A federal mediator was appointed and has been actively working to resolve outstanding contract issues. Progress appears to have stalled, leaving continued uncertainty for many retailers and manufactures.
Longshoremen are some of the highest paid blue collar jobs available. The average Longshoreman wage and benefits package is nearly $220,000 per active worker. Foremen can make upwards of $300,000 a year in wages alone.
Posted: January 26th, 2015 under Uncategorized.